Orange County Sexual Assault Suspect In Court
Assault suspect appears in Santa Ana Court
A man suspected in 2 separate sex assaults in the Orange County area was in an Orange County Courtroom on Tuesday, December 19th, 2013. The assaults happened last week. The name of the suspect is Raymond Boykin.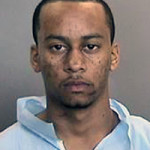 Boykin, in the above mugshot,  is 18 years old, and he has been accused of sexually assaulting a woman on Friday, December 13th, 2013. After allegedly assaulting her, the woman's car was stolen. This happened just outside of an Anaheim church. Boykin attempted to evade Orange County law enforcement both in the victim's car, as well as on foot. He was arrested shortly afterward when he was discovered hiding in a local apartment.
According to the Santa Ana Police Department, the suspect also assaulted a woman in a parking garage at a local Santa Ana mall. Boykin has been charged with multiple felonies, including:
Grand theft of an automobile
Robbery
Driving recklessly while trying to escape the police
2 counts of sexual assault
Boykin could face life in a California State Prison if convicted on all charges.
Contact Us when you need Orange County Bail Bonds.